When It comes to moving live poultry fast and efficiently you are only as good as your lift gate. FPM Rhino Rail Lifts allow you to be the best. Designed exclusively for the poultry industry. Rhino Rail Lifts can take the use and abuse of moving birds on a daily basis. Built for durability and ease of maintenance.
Standard Features include the following:
120″ lift height for 102″ wide trailers. 2000# capacity or 2 loaded poultry carts. Heavy-duty sprockets with roller bearings. 3/4″ hardened axles with grease zerks. #60 roller chain Safety fence. 1/4″ aluminum tread plate platforms up to 60″ wide with 12″ on/off ramp.
Optional Features available:
Side loading ramps 24″x24″. Single or dual 12 volt dc hydraulic power units by Monarch Hydraulics. Heavy duty battery charger or battery cable run to tractor for charging. Reservoir mounted hydraulic fluid heater. Aluminum pump box with double doors, lock and key, sizes to 24″x24″x48″. Push-button or hand held controls. Adjustable speed down control valve. Lift gates can also be made with two-way cylinder for use with tractor powered PTO systems.  Contact FPM today for Pricing and move up with Rhino Rail Lifts.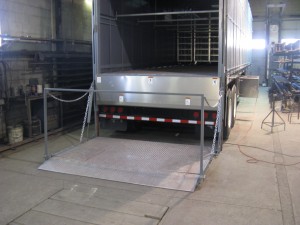 Shown above is our standard 60″platform with 12″ ramp, dual 24″ side ramps, and standard safety fence in place.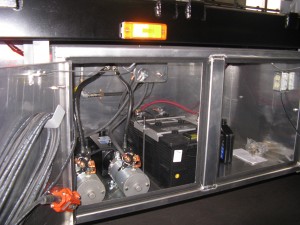 Shown above is our pump box featuring dual Monarch hydraulic pumps, heavy duty battery, and push button hand control pendant.
Click below to download further maintenance, trouble shooting guide, and operating instructions.
Rhino Rail Operating Instructions
Trouble Shooting Guide Rhino Rail Lift Gate