Designed as the most humane and effective means for the disposal of unwanted fowl. Cart is designed in accordance to guidelines set forth by research done at University of Georgia Poultry Science Department and meets the approval of the United Egg Producers to euthanize spent hens. The loading of birds is accomplished at either end of the cart or through a top self sealing door. A CO2 cylinder carried on the cart allows gas to be dispensed by the operator at any time during the loading process. Observation windows at either end of the cart allows operator to monitor bird behavior during the process and helps ensure the quick humane elimination of birds. An operator can dispose of 1200-1500 birds per 20# bottle of CO2. A pull lever activates positive lock door latch opening one end of the cart for unloading. Six inch casters are standard equipment and allows operators to guide carts easily down narrow isles. The FPM cart is light and easy to sanitize, constructed of tubing and galvanized sheet. Carts are 17-1/2" in width and are 48" long. Cart capacity is 150+ birds.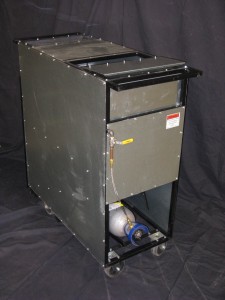 The FPM Inc. Modified Atmosphere Killing Cart is equipped with self sealing loading doors on both ends of cart and a large unloading door that is activated by a hand pull release lever. The wheels of cart have also been spaced back to allow the door to hang over edge of dock for unloading. Two people can easily elevate the opposite end of the cart allowing birds to slide out. Do it the right way use FPM Inc. Poultry Moving Equipment.
Click on the the links below to download Operation Manual and Safety Data information.